LEARN THE FOLLOWING SKILLS:
Cementing bands | Bonding | Bracket & band placement | Intra-oral photographs | Essix retainer fabrication |
And more!!!
Upon completion of this course,
you will be eligible to sit for
the state board exam.
Sunday Morning program: 9:00AM

Sunday Afternoon OVERFLOW program: 2:00PM

BENEFITS OF OBTAINING ORTHODONTIC ASSISTING PERMIT WITH SOCAL ORTHO ASSISTING
Assistant is able to cement bands under general supervision
Assistant is able to deband brackets under general supervision
84 CE units upon completion
Flexible payment options
10% buddy discount applied when 2 or more assistants sign up together!
All course material included in course fees
Lifetime CE renewal discounts to enrolled students!
Stay in compliance with Dental Board of CA
Study material is kept forever through your personal online portal
The requirements for taking the OA Permit course are below:
Current RDA license OR
Completed DA program OR
Employed under a licensed dentist for a minimum 6 months
As of January 2010 the California Dental Board requires Dental Assistants who are working in an orthodontic office and/or are performing the daily duties of the Orthodontic Assistant must hold an Orthodontic Assistant Permit.
On and after January 1, 2010, the board may issue an orthodontic assistant permit to a person who files a completed application including a fee and provides evidence, satisfactory to the board, of all of the following eligibility requirements:
Completion of at least 12 months of work experience as a dental assistant (However, course participation may commence after 6 months work experience or active RDA license)
Successful completion of a Board-Approved course in the the following:
Dental Practice Act

8-Hour Infection Control

Orthodontic Assisting

Ultrasonic Scaling
Successful completion of a course in basic life support offered by an instructor approved by the American Red Cross or the American Heart Association, or any other course approved by the Board as equivalent.
Passage of a written examination administered by the Board after completion of all of the other requirements listed above.
Submit fingerprint clearances from both the Department of Justice and Federal Bureau of Identification. This process can take 60 days or more. If an applicant has a criminal history, arrest report and court records must be obtained and investigated before a decision is made to issue or deny the license.
​Once this process is completed and an applicant is found to be qualified for licensure, a pocket identification card and wall certificate are issued. There is no license fee required for the initial license other than the initial application and examination fees.
Add to Cart:
$1,150.00$1,150.00 Purchase
Students during the Orthodontic Assisting Program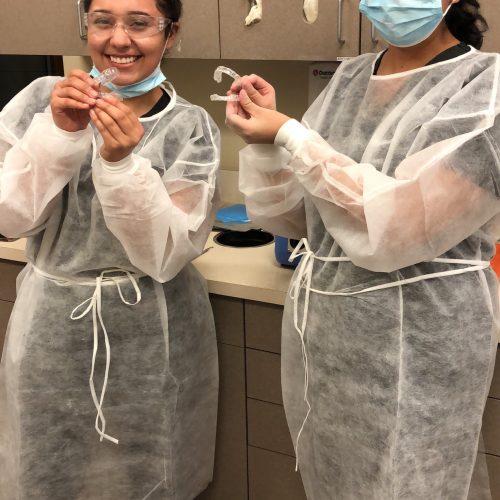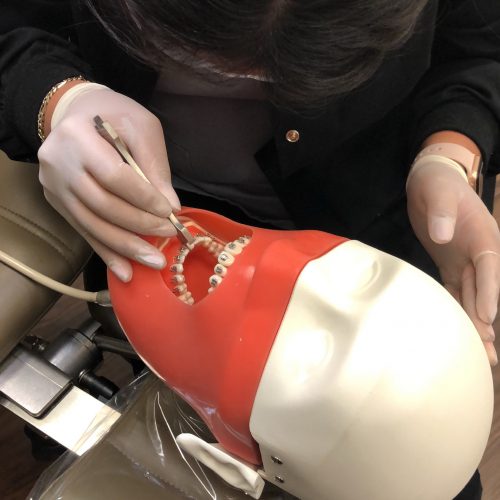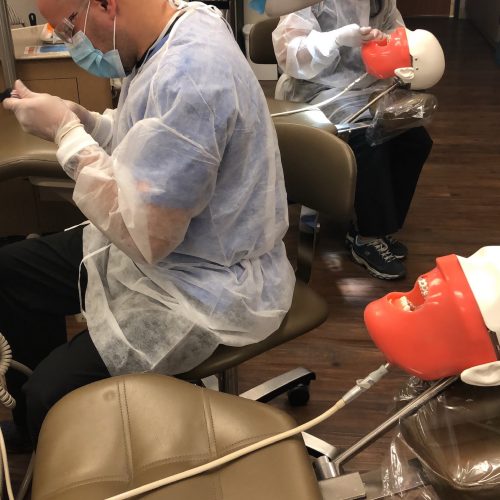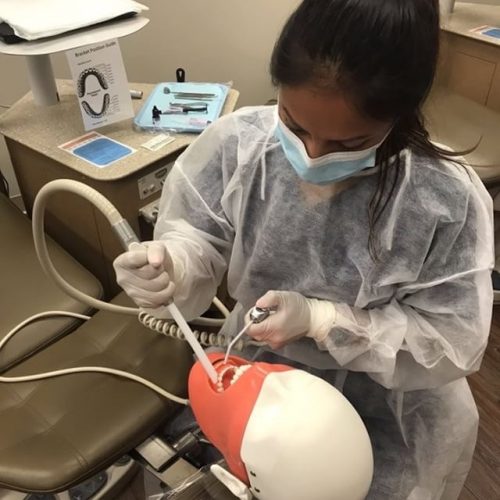 Thank you! Sage you are a great instructor!!
The course was very informational I learned a lot and feel confident to practice having an OA certification.
Thank you so much for all your help!
The instructors were a great help in advancing my knowledge of orthodontic procedures. I definitely feel that I can talk to my dentist more confidently about my patient's treatment plan.…
I'm so happy to take the program with you guys. You are so very friendly and helpful with students. Thank you so much and blessings always for you!!